Originally published on https://www.ukrweekly.com/uwwp/uoc-u-s-a-and-salt-foundation-distribute-food-during-pandemic/
---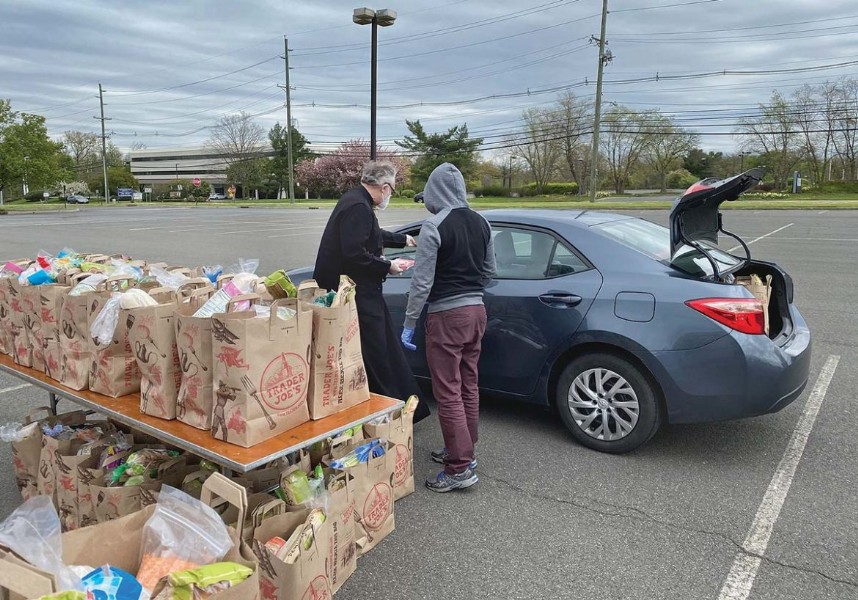 SOMERSET, N.J. – The Ukrainian Orthodox Church of the U.S.A., in partnership with the non-profit SALT Foundation, has been distributing food to those in need as a result of the coronavirus pandemic at the "Community Love Pop-Up Drive-Thru Food Pantry" that has been set up at the Spiritual Center of the UOC-U.S.A. in Somerset, N.J. The most recent distribution was held on May 13.
The drive-through service follows strict adherence to preventive measures recommended by the Centers for Disease Control and Prevention, including social distancing, wearing masks and gloves, and using sanitizer. Food bags are loaded by Archbishop Daniel, clergy and seminarians of St. Sophia Ukrainian Orthodox Theological Seminary, as well as volunteers from the SALT Foundation, into the trunks of vehicles to minimize contact and exposure.
Yaroslav Bilohan/UOC-USA
Some of the food items being prepared for distribution to those in need.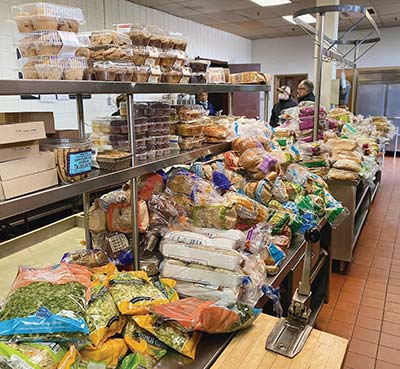 The food distribution takes place on Wednesday afternoons at the Spiritual Center of the UOC-U.S.A., from 1 p.m. until all the food is distributed that day (typically until 3 p.m. as advertised). An activity booklet, "Discover My Plate," prepared by the United States Department of Agriculture, is included for children to reinforce good nutritional habits.
This past Wednesday's distribution was the seventh for the SALT Foundation, with previous distributions that began on March 18 at various locations in Somerset County. The UOC-U.S.A. and the Salt Foundation have been coordinating since April 29.
Archbishop Daniel, via Facebook and the UOC-U.S.A. website, wrote on May 6: "Love comes in different shapes and forms! Earlier today, the love of God for those in times of Covid-19 was shared through Agape meal (groceries) provided by the Salt Foundation and the Ukrainian Orthodox Church of the U.S.A. at the Spiritual Center (Metropolia) of the UOC of the U.S.A. in South Bound Brook/Somerset, N.J. Once again, we are truly grateful to the staff of the Ukrainian Cultural Center: Maureen Nevins – manager of the Cultural Center, Troy O'Prandy, Ihor Morozovsky and Mariya Morozovska, seminarians of St. Sophia Ukrainian Orthodox Theological Seminary, Fr. Vasyl Pasakas – dean of students, Subdeacon Yaroslav Bilohan, Subdeacon Myroslav Mykytyuk, seminarians Pavlo Vysotskyi, Andrii Vatich and Maksym Zhuravchyk, as well as to the staff of the Salt Foundation of N.J. – especially Ms. Claudia Lewis."
Donations of non-perishable food items, toiletries, laundry essentials and baby items are collected on Mondays and Tuesdays from 9 a.m. to 5 p.m. at the Ukrainian Cultural Center at 135 Davidson Ave. in Somerset. Many of the donated items have come from Trader Joe's and Wegmans food stores.
www.saltfoundationinc.org
Claudia Wheeler, founder of the SALT Foundation.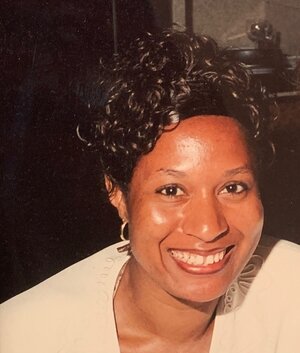 Claudia Wheeler, the SALT Foundation founder and executive director, stated: "You should see the faces of the people who come and some who have come before. Happiness, gratefulness, feels like taking care of family. That is what warms my heart beyond anything. The other is that I feel so privileged that God has used me to bring denominations together in service to his people in this time. So humbling. We prayed together to start and to close."
Ms. Wheeler is a U.S. Navy veteran and a public school teacher. The SALT Foundation website describes Ms. Wheeler's work: "In the past eight years, she has collected and delivered over 65,000 pounds of fruit, vegetables, grains and other food products to dozens of organizations and thousands of families. She has driven over 75,000 miles in partnering with supermarkets and food stores including Trader Joe's , Whole Foods, Wawa, Raritan Bakery and others."
In addition to donations of food and other items mentioned, readers can support the effort, through PayPal on the SALT website (www.saltfoundation.org), including designating Amazon donations through its Smile program (smile.amazon.com and designate the SALT Foundation or the UOC-U.S.A.), register as a volunteer (www.thesaltfoundationinc.org), and promote the effort through Twitter (@SaltNJ) and Facebook (Facebook.com/SaltNJ). The SALT Foundation Inc., a 501 (c) (3) non-profit charity, also has a GoFundMe page at https://charity.gofundme.com/o/en/donate-widget/4539.
Using the biblical phrase "salt of the earth," for those who work to help their fellow man, the SALT Foundation, founded in 2017, works to do just that by making the modern food system go further in helping those who need help most. Gleaning – or gathering left-behind produce and other food goods – is an increasingly important way to help provide families and individuals with healthy food at no cost.
The SALT Foundation has successfully developed the following process to help feed the hungry in New Jersey's Hudson, Mercer, Middlesex and Ocean counties: coordinate with supermarkets and other food suppliers to arrange pick-up times and locations; collect thousands of pounds of food that would otherwise go to waste; and deliver that food on a timely basis to homeless and women's shelters, churches, food pantries, food drives and other groups and individuals who need help the most.
The SALT Foundation also collects and delivers books, clothes, supplies, and other educational goods and services to similar audiences and other children and adults in need.
For additional information, Ms. Wheeler may be contacted at c.wheeler@saltfoundationinc.org. Readers may also visit the UOC-U.S.A. website, www.uocofusa.org.